About Our Practice
Bellingham & Ferndale Vision Clinic is pleased to offer a wide range of optometric services, eye care products including eyeglasses, specialty eyewear, frames, and contact lenses. Our staff is happy to help however we can.
Contact us any time to learn more or to schedule your next appointment.
About Our Team
Our team of eye care professionals is experienced and friendly. We're here to help all patients understand their benefits, schedule appointments, and fulfill their eye doctor's orders. Our opticians can give you guidance in picking out your perfect pair of eyewear, and our friendly office staff is knowledgeable about billing and benefits coverage.
Learn more about our team here!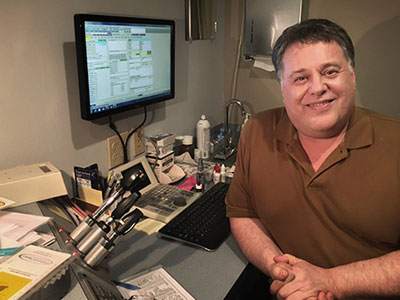 Dr. Michael Hovander
Dr. Michael Hovander received his undergraduate and doctorate of optometry at Pacific University in 1982. He has been a lecturer and clinic director at the University of Auckland in New Zealand in the late 1980's. He was included in research done in Vanuatu. After leaving the University of Auckland he sailed from Hawaii to Fiji and onto Vanuatu.
Dr. Hovander is a past President of the local Mount Baker section of the Optometric Physicians of Washington and served on the Board of Trustees for the Optometric Physicians of Washington. He is a recipient of the American Optometric Association's Optometric Recognition Award.
He has traveled extensively and is fluent in Spanish. Recently Dr Hovander was on a medical mission to Cuba.
Dr. Hovander's father was the first practitioner in Washington state to fit a rigid contact lens in the 1950's. Dr. Hovander specializes in computer aided contact lenses, multifocal lenses and postsurgical designs and lenses for keratoconus. Medically his practice specializes in management of dry eye, glaucoma, macular degeneration and diabetes.